August 5, 2015, 3:05 pm
Florida Quality Roofing (FloridaQualityRoofing.com) was awarded two S.T.A.R. awards from the Florida Roofing and Sheet Metal Contractors Association (FRSA) for its work with sustainable roof solutions and for their unique approach to roofing challenges.
FRSA awarded Florida Quality Roofing honors in the Sustainable and Unique categories for a condominium roof restoration project in Hollywood, Fla. The condo association faced repeated repairs on its aging flat roofs that were susceptible to water damage. Given the client's budgetary constraints, Florida Quality Roofing found the ideal sustainable roof solutions – that was easier on their budget and on the environment.
Florida Quality Roofing restored the roof using a reflective silicone roof coating that increases roof performance by reflecting sunlight, keeping the building cooler, and reducing air conditioning and energy costs. The result was a sustainable roof solution that is environmentally friendly. Additionally, since Florida Quality Roofing was part of the FPL Participating Independent Contractor (PIC) Program the new silicone roof coating qualified the Condominium Association to receive energy-saving rebates.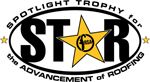 The FRSA S.T.A.R. – Spotlight Trophy for the Advancement of Roofing – is an awards program designed to recognize association members for their unique and outstanding projects completed in Florida. The awards were handed out on July 17 at the 93rd Annual Convention and Florida Roofing Sheet Metal Expo.
"We are delighted and honored to receive these two awards. It's a great privilege to be among the best of the best in our industry," said Stella Amador, vice president of Florida Quality Roofing.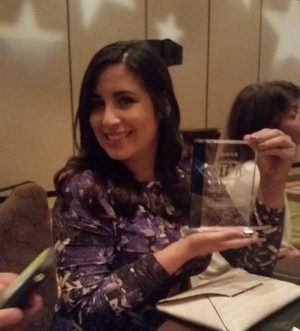 About Florida Quality Roofing
Florida Quality Roofing (FQR) was established in 2002 and is family-owned and operated full-service roofing company with a successful reputation for honest and professional services catering to the needs of both commercial and residential customers throughout South and Central Florida (Miami, Fort Lauderdale, Palm Beach, Orlando, and Tampa). We specialize in sustainable solutions through roof restorations, silicone roof coatings, and comprehensive maintenance. Visit FloridaQualityRoof.com.
Connect With Us
Facebook.com/floridaqualityroofing
Twitter.com/FLQualityRoof
Instagram.com/flqualityroofing
LinkedIn.com/company/florida-quality-roofing-inc-
PR Newswire: Florida Quality Roofing Receives Awards for Sustainable Roof Solutions