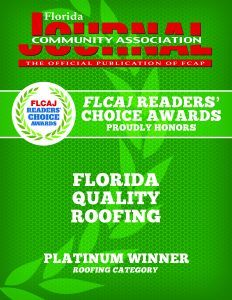 Top roofing contractors in the state of Florida
Florida Quality roofing voted top roofing contractors in the state of Florida and receives top honors in the Florida Community Association Professionals Readers' Choice Awards
MIAMI, June 21, 2016 /PRNewswire/ — For the third year in a row, Florida Quality Roofing Voted Top Roofing Contractor Florida by readers of the Florida Community Association Journal (FCAJ).
"This honor means a great deal to us because we value the work we do with condominium boards and associations. We take great pride in being able to offer roofing solutions that protect residents and their property, and that meet the strict budgetary restraints many boards are under," said Florida Quality Roofing Vice President Stella Amador regarding the honor to be voted Top roofing contractors in the state of Florida. 
Florida Quality Roofing specializes in silicone roof restoration, a solution that is both energy efficient as it is cost effective. They work closely with condominium boards and property managers throughout the state to create awareness of the benefits of a silicone roof coating that ensures the protection of the property and extends the life of a roof.
"Our work with condominium and residential associations has increased over the years because of our focus on education as well as advocacy for energy efficient and cost effective roofing solutions through the use of silicone restorations," Amador said. "Communities like it because they don't have to deal with major construction, disruption to residents, it's eco-friendly, adds between 10 to 20 years to the life to an existing roof and costs about a third of total roof replacement."
The Florida Community Association established the Reader's Choice Awards through the Florida Condominium Journal three years ago to showcase contractors and other service providers that are committed to working with condominium boards in other words the very Top roofing contractors in the state of Florida.
The Reader's Choice Awards has grown in popularity since its launch in 2013. This year, 265 service providers were nominated and 5000 votes were cast, but only 75 received honors. Florida Quality Roofing received the platinum status, awarding it one of the highest honors for a Florida-base roofing company. 
About Florida Quality Roofing
Florida Quality Roofing (FQR) was established in 2002 and is a family-owned and operated roofing company serving clients throughout the state of Florida. FQR has a successful reputation for award winning and professional services, catering to the needs of condominium associations working with board presidents and board members. We are a full service roofing company specializing in sustainable solutions through silicone roof coating restorations.