Florida Quality Roofing was contracted to re-roof the shingle portion of four three story South Florida Condominium Roofing (approx. 320 Squares) for Emerald Hills Country Club Condominiums. This South Florida Condominium Roofing project was a great example of our attention to detail, prior to accepting our proposal, The Board of Directors received many estimates with varying recommendations. However, surprisingly our proposal stood out more for for what we would not do than what we would.
Improper Drip-Edge Installation By Previous Contractor Leads to Premature Roof Failure at this South Florida Condominium Roofing
Upon our inspection of the aged out shingle roofs we became aware of their very poor condition despite only  serving 15 years of their 20 year lifespan. A deterioration which was accelerated by an installation of an inverted drip-edge to prevent water from going over the balconies. The previous roofing contractor installed this inverted drip edge immediately after the shingles were installed 15 years ago. As a result the shingle roofs failed prematurely.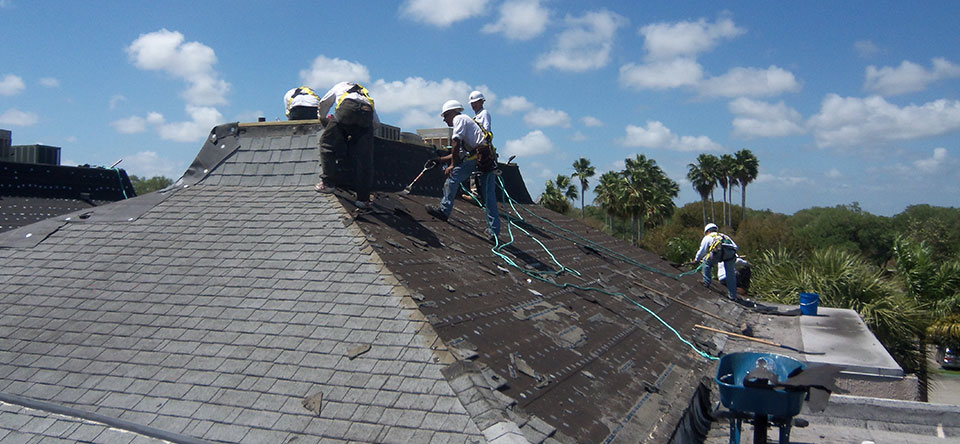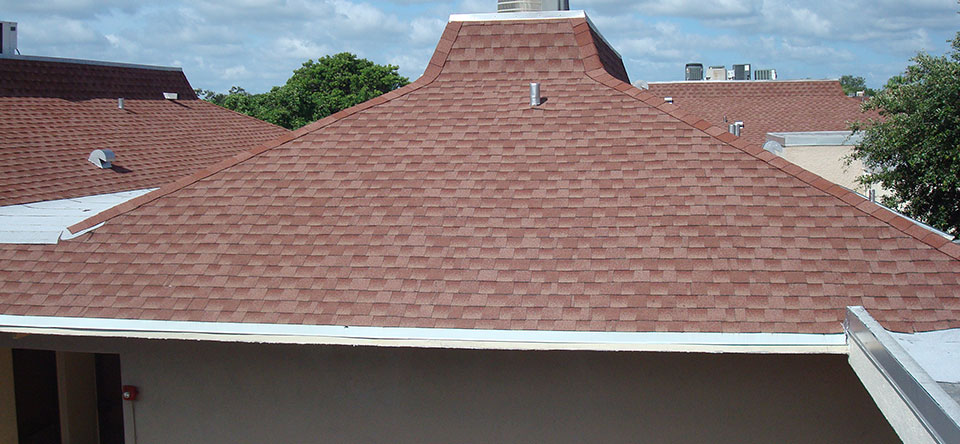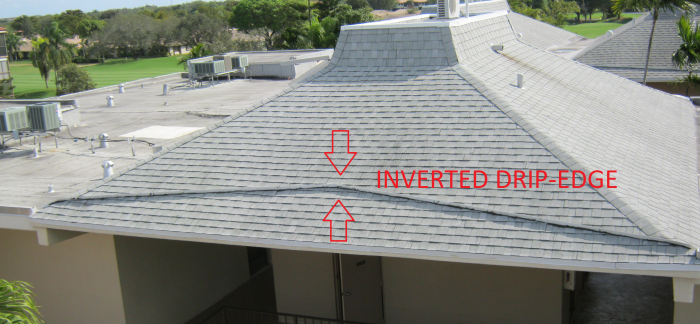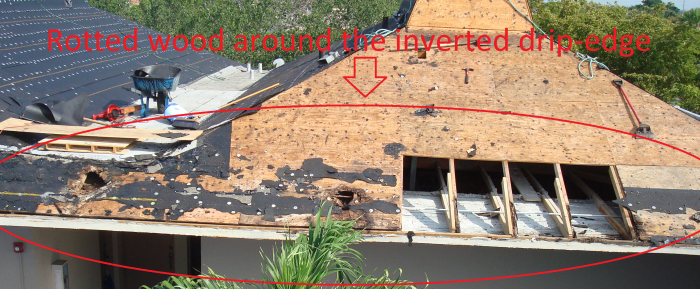 Surprisingly our proposal was the only one to address the issue and recommend that they DO NOT install this inverted drip-edge for three important reasons:
It would void the manufacturer's warranty on the newly installed shingle roofs
And most importantly – the new roofs would inevitably fail prematurely as the old roofs did
Last, it is simply bad roofing practice, a roof is meant to shed water, these inverted drip-edges were collecting water on the roof that was meant to run off.
A better and proven alternative to this issue is to install gutters.
As the only contractor to explain this to The Board of Directors, we were awarded the contract and resumed to install a beautiful new shingle roof without any drip-edges.
Florida Condominium Roofing Experts
From experience, anytime we work on a Florida condominium roofing project, we are well aware of the environment and what it takes to make the project successful:
To be the least disruptive
Keep all safety procedures above standards
Be on top of every detail
Advise tenants of possible hazards
And above all, have excellent project management
Do you have a condominium roofing project you would like our expertise on? We'd love to help you find the right solution for your roof and project!
Here's the latest project to be featured in CoatingsPro Magazine: https://nace.mydigitalpublication.com/publication/?i=644836&ver=html5&p=38
Check-out our additional South Florida Condominium Roofing Project: https://floridaqualityroofing.com/miami-commercial-reflective-cool-roof/

UP TO 25 YEAR TRUE WORKMANSHIP WARRANTY BACKED BY MANUFACTURER
All work comes with a labor and material warranty. A 50 year material warranty is the longest material warranty on the market.

UP TO 130 MPH WIND RESISTANCE
We recommend roofing systems that exceed building code requirements and offer materials that can withstand up to of 130 MPH wind pressures.
MOST COST EFFECTIVE SOLUTION FOR STEEP SLOPE
Compared to tile and metal roofs, a shingle roof is the most cost effective option.

EASY TO REPAIR AND MAINTAIN
Shingles are a low maintenance roof system that is also easy and cost effective to repair.

CLASS A FIRE-RESISTANCE RATING
Class A is the highest rating, offering the highest resistance to fire