Florida Quality Roofing was recently featured on September issue of Roofing Contractor Magazine for our continued work with energy efficient roofing systems. In this case we installed a CertainTeed Coolstar roof as part of a whole building envelope restoration for Highland Apartments in Downtown Miami.
Roofing Contractor is the premier industry publication written specifically for the contractor. An independent magazine,Roofing Contractor's bold, concise and timely editorial addresses issues critical to contractors and provides the information and insights that help contractors succeed. Our editorial reaches a national audience and covers all aspects of residential, commercial, industrial and institutional roofing. Source: Roofing Contractor
Miami Apartment Complex Increases Energy Efficiency, Wind Resistance with New Multi-Ply CertainTeed Cool Roofing System
By Barb McDonough | CertainTeed Corporation

Florida's Miami-Dade County has some of the most stringent building code requirements in the nation for roofing. For example, roofs must meet the extreme wind-uplift resistance requirements of the High Velocity Hurricane Zone (HVHZ) Section of the Florida Building Code. In addition, the City of Miami goes a step above by requiring all new and re-roofing systems to include a solar-reflective cap sheet to reduce roof surface temperature and decrease the energy consumption of HVAC systems. Because of this, building owners in the Miami area have to do their due diligence when researching roofing options for both new construction and retrofits.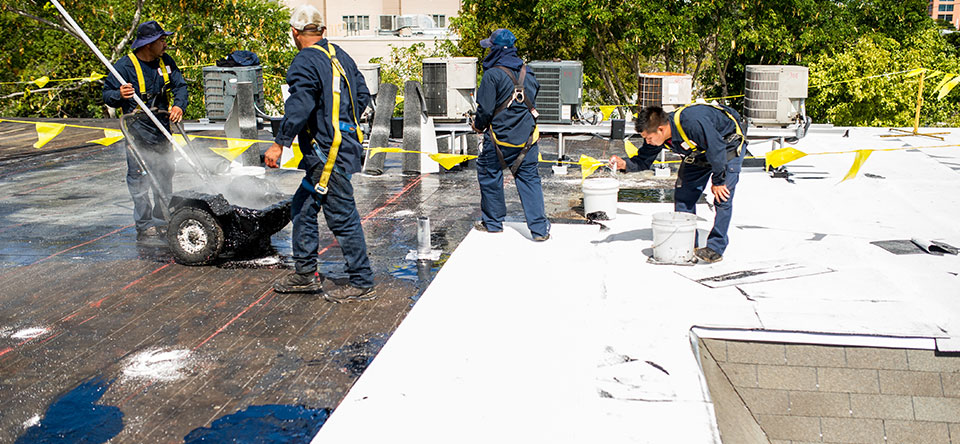 As part of a recent extensive remodel, the owners of Highland Park Apartments, near downtown Miami, opted to replace two aging low-slope roofs. The roofs over the complex's two 3-story buildings—each more than 40 years old—were in dire need of attention, having multiple leaks and some roof deck deterioration. After taking bids from a few roofing contractors, the property owners—1545 Nadlan LLC for the first building and 1600 Nadlan LLC for the second building—hired Florida Quality Roofing a Cool Roofing Contractor, of Hallandale Beach, Fla. The owners were impressed by the cool roofing contractor's suggestion to install a CertainTeed® multi-ply modified-bitumen roof with a Flintlastic® CoolStar® solar-reflective white cap sheet. This recommendation stood out as a robust alternative to the thermoplastic polyolefin (TPO) single-ply roofing recommended by the other roofers.
"Several contractors down here offer a white single-ply TPO roofing system as a low-slope roof option for properties with minimal rooftop [HVAC] units (RTUs), penetrations and foot traffic," says German Duarte, co-owner and president of Florida Quality Roofing, a cool roofing contractor. "I, however, am a big proponent of multi-ply modified bitumen roofs when offering solutions for properties that have multiple RTUs and frequent foot traffic, which was the case at Highland Park Apartments. I feel that BUR and modified bitumen roofing have endured the test of time and provide superior performance and protection, due to their multiple plies. With the TPO roofs, however, you only have one ply. When I presented the options, the customer was very much in favor of the multi-ply roof and was able to see the advantages of such a system for his properties."
"As a CertainTeed Silver Star Commmercial cool roofing contractor, we have installed several CertainTeed BUR and modified bitumen roofs over the years. Since we needed to meet the City of Miami's requirements for a solar-reflective cap sheet, this project provided an excellent opportunity for us to install the CoolStar roofing system for the first time," Duarte adds.
The CertainTeed CoolStar roofing system exceeds ENERGY STAR® standards by reflecting 70 percent of the sun's rays. This cool roofing technology keeps roof surface temperatures up to 50 to 60 degrees cooler than conventional low-slope roofs, which increases energy efficiency and lowers utility bills. A Participating Independent Contractor in Florida Power & Light's Roof Savings Program, Florida Quality Roofing a cool roofing contractor was also able to offer the property owner an energy-efficiency rebate with the roof system, which will help them to save as much as 30 percent on future energy costs.
One of the apartment buildings had a concrete roof deck with an asphalt built-up roof (BUR) and gravel, while the other had a wood roof deck and BUR with a smooth asphalt cap sheet. The contractor began work with a crew of eight removing the existing roof from the building with the concrete deck. The crew then primed the deck with FlintBond® primer and applied a GlasBase™ base sheet with hot asphalt. Next, two Flintglas® Type 6 Premium Ply Sheets were applied with hot asphalt. The system was completed with a granule-surfaced Flintlastic FR-P CoolStar cap sheet, also applied with hot asphalt.
On the second building, the crew removed the old roofing and repaired several areas where the wood deck had deteriorated. Once the deck was prepared, the roofers mechanically fastened a GlasBase base sheet to the deck and installed the two Flintglas Type 6 ply sheets and a granule-surface Flintglas mineral surface cap sheet with CoolStar, also applied with hot asphalt.
Both jobs took about three weeks to finish and were complete reroofs—the crew replaced all flashings, installed new air conditioning flanges, goosenecks and pitch pockets. Florida Quality Roofing a cool roofing contractor also hired a local HVAC contractor to disconnect the buildings' air-conditioning units, which were mounted directly to the roof surface. The contractor installed new stands for the units to provide them better support and reconnected them to the HVAC system.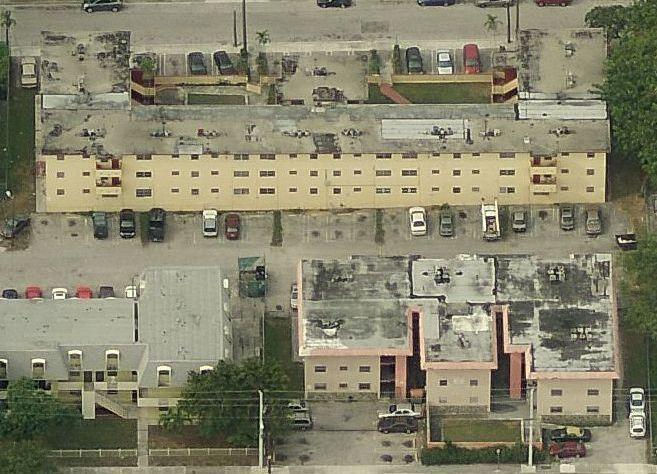 The job ran very smoothly and Florida Quality Roofing had a positive experience working with the CoolStar system.
"We found that the CoolStar cap sheet gives you a much cooler roof surface during installation and really stands up to wear and tear," Duarte says. "That's a big advantage when you have both roofing and HVAC crews walking all over the roof. And, the surface stays white, especially in comparison to the surrounding roofs. You can see our two roofs from Florida State Road 836, and they look very white, while the other BUR roofs surrounding them have more of a grey color."
The property owner was very pleased with cool roofing contractor Florida Quality Roofing's work, as well as the CertainTeed cool roofing system. In fact, they have already commissioned future reroofs with CoolStar systems from the contractor.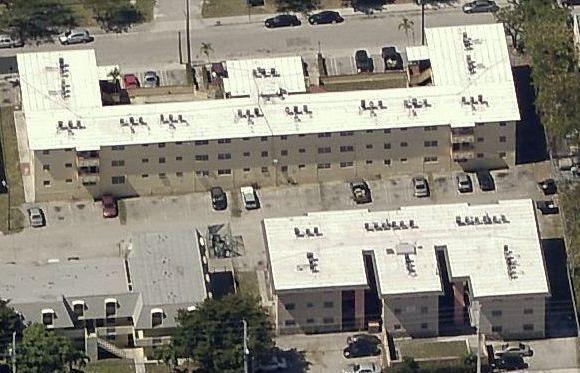 "I was very satisfied with this job, both with the roofing products and the quality of the work," says Sam Gurfinkel, manager of 1545 Nadlan LLC and 1600 Nadlan LLC. I've worked with other roofers before, and I found Florida Quality Roofing to be more professional and knowledgeable about roofing methods and materials. I think the CoolStar roof system is going to be a good product for all of our apartment buildings."